Striping and Marking
Pavement markings help control vehicle and pedestrian traffic, while also ensuring maximized parking for tenants, customers, and employees. Arrows, crosswalks, stenciling, and other markings, combined with parking stalls, create an efficient parking lot and roadway for your property. Custom stencils are a great way to enhance your brand.
ADA Compliance. Access to your property and compliance with regulations (Federal, state, and municipal) is an imperative for all facilities. ADA compliance through pavement markings and signage not only ensures avoiding fines and penalties but also allows easy access to your property.
The Finishing Touch. Repainting your parking lot makes your property look newer and well-maintained. Striping and painting enhances your curb appeal, which adds to your customer or tenant satisfaction. This is truly the finishing touch, and is an essential and inexpensive way to maintain the value of your property.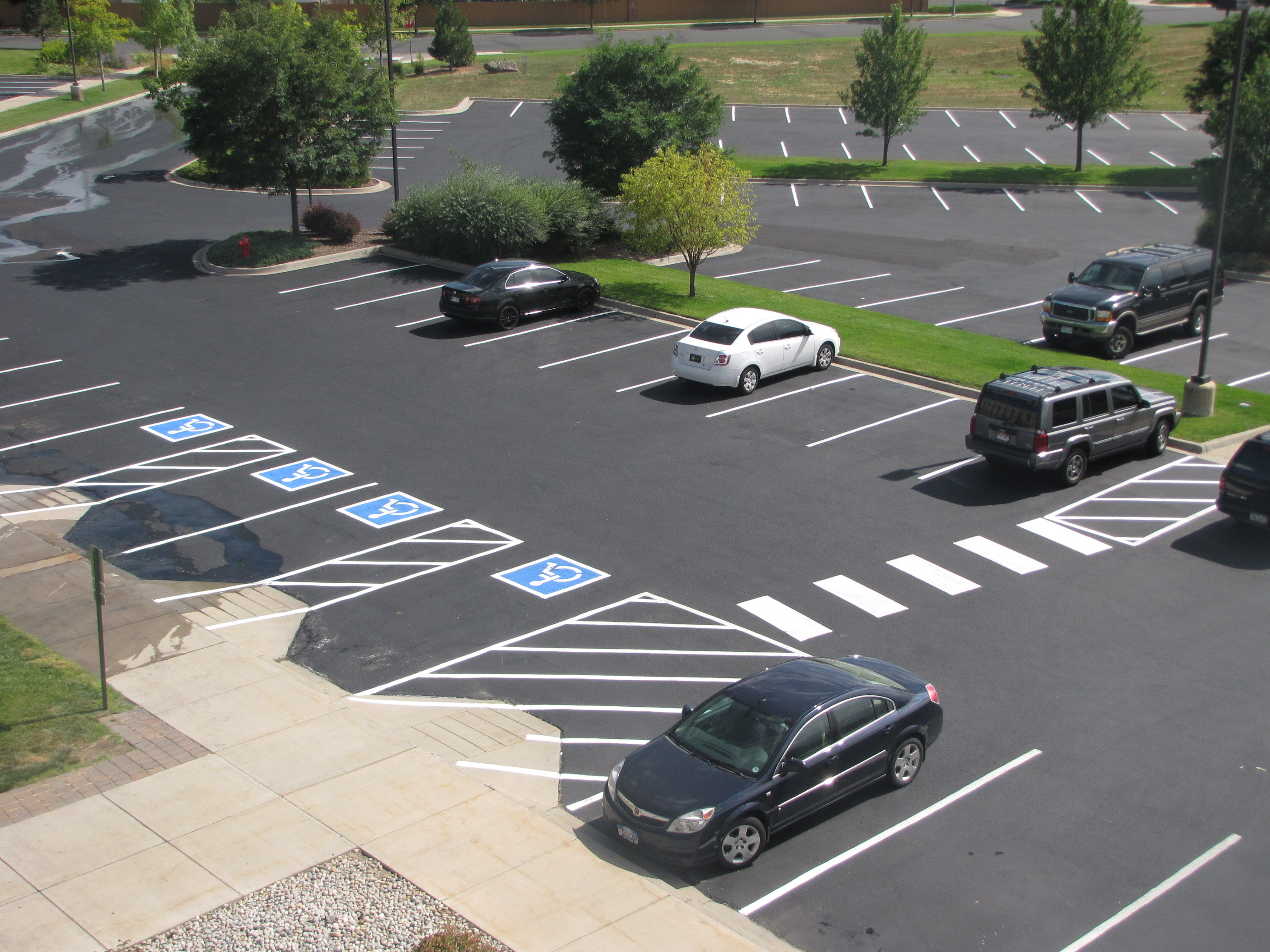 Seal Coating
Asphalt parking lots are an important portion of the property's value. We provide our customers with a free periodic inspection of their parking surfaces and assist you in establishing schedule and budgets for necessary pavement service and repair.
Our proven technique and quality sealcoat materials provides outstanding resistance to water seepage, petroleum spills, oxidation from the sun, and other damaging elements.
Curb Appeal. Customers' and tenants' first impression of your property is the parking lot. Seal coating with Action Striping ensures a positive first impression by enhancing the appearance of your property.
Save Money. An independent study, by the Pavement Coatings Technology Center at the University of Nevada at Reno, shows conclusively that maintaining asphalt with seal coat every three years saves an average of $152,500 for an average commercial parking lot over 15 years.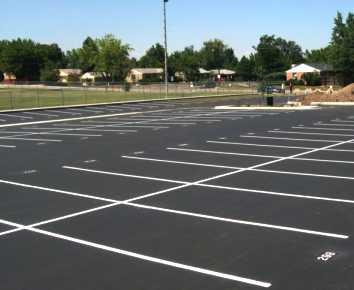 Hot Crack Sealing & Pot Hole Repair
Cracks allow moisture penetration from rain, snow, salt, and ice which erode the base of your parking lot. As these harmful substances penetrate into the subbase of the pavement, the cracks widen and eventually cause potholes.
Unrepaired potholes will chip away and become more severe pavement issues. This exposes you to serious liability as potholes are trip hazards to tenants, customers, and employees.
Crack sealing is truly the first-line of defense against the degradation and eventual failure of the pavement. Sealing these gaps effectively stops the seepage of harmful substances and prolongs the life of your pavement investment.
The Process. Cracks are sealed using hot-applied rubberized joint sealant that exceeds Federal specifications. A light aggregate material is finally added to the hot rubber to improve adhesion to the pavement surface.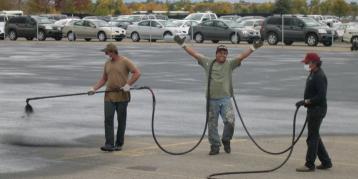 Thermoplastic Pavement Marking
Our thermoplastic is designed to be applied to asphalt surfaces or to cement surfaces. This is a very tough, very durable permanent material.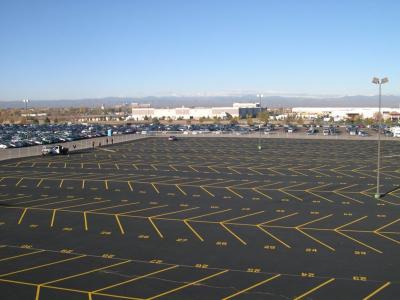 Signs
Stop. Yield. Even Deer X-ing. Action Striping will deliver and install, per your specifications, stock or custom made signs. Using state-of-the-art equipment, we provide signs that will stand up for years to sunlight and weather.
Parking Block Replacement
We can drill and pin new concrete parking blocks in pavement or re-pin existing blocks.